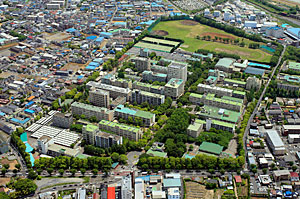 As the only one national university established in Saitama Prefecture, Saitama University's history begins a century ago. Three renowned Japanese national education universities, Urawa Higher School(est.1921,Saitama Normal School (est.1873)and Saitama Youth Normal School(est. 1922)were integrated into Saitama University in 1949 to cultivate talented minds. The University was established based on the diverse characteristics and the know-how of each institute. These founding principles reflect the diversity, harmony and progress seen on our campus today.
Saitama University has long been established as a respected national university within Japan. As part of our global initiative, we convey outstanding results born from our multifarious research projects to scholars across the world.
The University is not the stereotypical, conventional Japanese national university.
We create originality from original mindsets. Our students communicate with faculty. Our faculty's fields of expertise enable Saitama's unique curriculum of combining onsite classes and research to academics.