Updated on September 6, 2022
The Degree Awarding Ceremony will be held as follows after taking measures to prevent infection with the COVID-19 virus. Please note that it may change depending on the spread of infection. If there are any changes, we will let you know on this page.
【Date and Time】
Date: Thursday, September 22, 2022
Time: 11:00 am (Entry before 10:50 am)
【Venue】
University Hall  (Daigaku-kaikan 3rd floor)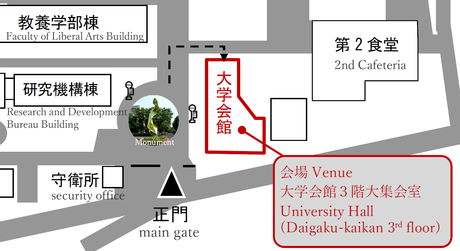 【Program】
1.Opening Address
2.Awarding of Degrees
3.Address by the President
4.Address by the representative of the undergraduate students
5.Addresses by the representatives of the graduate students
6.  Closing Address
【Notice】
● As a result of the temperature measurement at the reception, if it is over 37.5 degrees, you cannot enter. Also, please refrain from coming if you have symptoms of cold other than fever.
● Please wear a mask to prevent infection.
● In order to prevent infection with the COVID-19 virus, family members other than students themselves will be limited and pre-registration will be required. The pre-registration form will be posted on our website at a later date. If a family member other than the student wishes to participate, please register in advance using the form below.
SU Degree Awarding Ceremony Family Pre-Resistration Form
  *Pre-registration deadline is noon Wednesday, September 21, 2022
  *If family seats are full, it will be closed.
【Contact】
General Affairs Division
email:soumu[@]gr.saitama-u.ac.jp