Here is President's video message for Autumn Entrance Ceremony, 2020.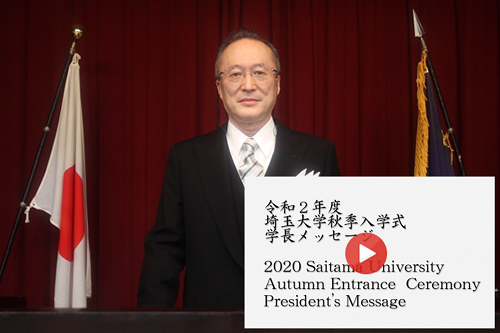 ---
2020 Saitama University Autumn Entrance Ceremony – President's Message
  Congratulations to everyone who will begin their graduate studies at Saitama University this autumn. This year we are all affected by the COVID-19 pandemic. There are many students who are still waiting for permission to enter Japan, so I would like to send a welcome message to everyone using the internet.
  Today, we are proud to welcome 30 Doctoral students, and 41 Master's students. These totals include 29 international Doctoral students, and 39 international Master's students, from 17 countries, namely Bangladesh, China, Egypt, France, Germany, Guinea-Bissau, India, Korea, Mongolia, Myanmar, Nepal, Pakistan, Philippines, Russia, Spain, Sri Lanka, and, Vietnam.
  It is our pleasure to embark on the journey of academia and research together with these new arrivals. On behalf of all our staff, I welcome you with an open heart.
  In addition, I would like to take this opportunity to say congratulations to the friends and family of these new students who supported them on their way here.
  First, I would like to talk about the impact of COVID-19. The first case of COVID-19 in Japan was diagnosed on January 16th, around 8 months ago. At the time, who could have truly predicted how far it would spread? Since then we have experienced dramatic changes both in our private lives, and in the academic and research environment. The conclusion of this pandemic is still far out of sight, and we find ourselves living in a state of endless uncertainty unlike anything we have experienced before. The very worst parts are the constraints on social interactions, which includes academic life.
  The fight against COVID-19 is not limited to medical fields like hospitals, pharmaceutical companies, and public health departments. Now that we must coexist with this virus, what is necessary to keep society functioning, while still protecting lives? How can we halt the spread of infection without sacrificing the economy? Which regulations should be enforced? How should schools, universities, and corporations deal with it? What can we expect from the public? National and local governments around the world are facing these same problems. People like you and me are facing these same problems in our own lives, one day at a time.
  So, what can we learn from the preventative measures that have been enforced this year? Today I would like to discuss 2 topics that I have observed: "the importance of interdisciplinary perspectives," and "information and communication."
  First, "the importance of interdisciplinary perspectives."
  Recent events have reaffirmed the value of wisdom gained from the humanities and social sciences, which study the origins of humans and society, as we seek to survive in harsh and chaotic circumstances. For example, if an infected family member is dying, we can no longer take for granted the opportunity to visit them in their final moments. This poses philosophical and ethical questions concerning life and death, and the meaning of funerals. We can also look back through history to the Spanish flu 100 years ago, which can teach us many things about the events surrounding pandemics, while giving us hope that the fight against this virus will eventually come to an end. The natural sciences and 2 medicine have the power to provide objective knowledge about viruses and treatment, but that is not a complete solution. You could say that our modern society is defined by a demand for a comprehensive approach that includes humanities, social sciences, and natural sciences. This is very similar to the Sustainable Development Goals (SDGs) established by the United Nations. In order to contribute to the solution of social problems, we must pay attention to fields outside our own expertise, we must show respect to people working in other fields, and we must maintain an attitude of collaboration. When it is time to take the fruits of your studies and research and implement them in the real world, this attitude will play an essential role.
  Too often, people working in research and development will obsess over convenience, novelty, and advanced technology, and force their projects through. But eventually, they will need to consider the needs of normal people when it's time to share the results of their research with society. Sometimes, you will need to confront impossible contradictions, like the shield and spear paradox. Yuval Noah Harari, author of Sapiens: A Brief History of Humankind, warns that while rapid development of monitoring technology can help contain COVID-19, it also indicates expanded surveillance of our private lives. The humanities and social sciences hold the wisdom and experience that we need to face this unpleasant dilemma. Likewise, studies in the humanities and social sciences need to understand and accept modern technologies. That's why graduate students in both humanities and science programs should seek to acquire a broad range of knowledge that goes beyond your own personal specialty. Please try to find topics that interest you outside of your own field, and maintain a flexible way of thinking.
  Saitama University believes that hosting all our academic and research departments on the same campus is a strength – the "All in One Campus" – where students and staff from diverse backgrounds can live and learn side by side. In addition, Saitama's location serves as a hub between urban and rural areas, allowing for easy access to both the rich resources of central Tokyo and outlying regions. I hope that all of you can maintain a wide field of view and gain intellectual flexibility to take full advantage of this wonderful environment.
  My second topic is "information and communication."
  The many challenges that arose due to the spread of COVID-19 have given us valuable hints on what we need. One of those needs is trustworthy information. Continuous research reveals new information about COVID-19 every day, and we are getting closer to developing treatment methods and vaccines. However, the media does not always report this information accurately. Inconvenient truths may be hidden from the public. In times like these when even experts fail to agree, the confusion is amplified by people loudly declaring unfounded theories, and others who are deliberately spreading fake news online. We observed this same behavior in 2011, following the nuclear disaster caused by the Tohoku earthquake. These days, we need to constantly question the reliability of our news sources. We need the skills to discern truth from lies by ourselves. So, we should begin by learning to question and scrutinize information. This brings us back to my first topic, the importance of interdisciplinary perspectives.
  Basically, we have been forced to contemplate both the importance and difficulty of good communication in order to avoid a crisis again and again. There are some leaders 3 who have achieved success in risk communication during the current COVID-19 pandemic. One of them is Angela Merkel, the Chancellor of Germany. In her TV appearances, she was able to display true empathy for people who are infected by the virus, people who are suffering losses due to the impact of its spread, medical professionals, and other essential workers. In addition, she expressed her trust in science, and science-based policies. Her leadership has been rewarded by strong support from the public. I believe that her speeches demonstrate the value of communication with the capability of truly visualizing the circumstances of other people, the capability of empathizing with their situation, and the capability of basing every word on that foundation of empathy. This is true for relationships between individuals, and between nations. Our research work is based on collaboration. Sometimes our work takes us through other research fields, sometimes it takes us beyond international borders. Right now, it's more important than ever that we find the capability to visualize the circumstances and interests of others, express empathy, and maintain discourse.
  I believe that you will gain this attitude through your experiences doing graduate studies and research. As you make progress in your chosen fields of study here, you will find that the road to success is often rough. But if you cling to your motivation, if you keep pushing forward with passion, you will find the way. You are surrounded by your fellow students who are pursuing the same major, the same research, the same intellectual journey. And your professors, who have walked this path of research before, are running beside you, leading the way. Don't be afraid to face new challenges. Every professor here is ready to provide their full support.
  Once again, congratulations on your admission to our school.
September 24, 2020
Takafumi Sakai
President, Saitama University