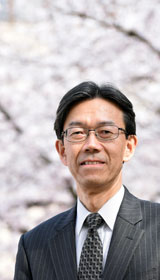 Welcome to Saitama University, an internationalizing national university. Whether you are a prospective undergraduate or graduate student, a would-be exchange student or professor from an overseas partner university, or an organizational leader seeking to collaborate with a premier research institution, I do hope you to enjoy exploring this website to know more about our university and to join us.
"Saitama University, All in One Campus at Metropolitan Area Saitama – Embodiment of Diversity, Synergy and Integration" is the vision of Saitama University (SU). Over the past 68 years since it was established in 1949 as a small university comprising only two schools, SU has grown into a middle-sized national university with five undergraduate schools and three graduate schools in the academic fields of liberal arts, economics, education, science and engineering. The university is distinctive in that all the schools are located together on the lush green campus in Saitama, just north of Tokyo. This is very advantageous in many respects, being conducive to research and learning in the integrated fields of humanities and science.
SU has been adding to its brightness more and more by pushing forward two functional enhancements. The first is the base reinforcement by extensively enhancing the functions of fundamental/applied researches and education for global human resource cultivation, based on the university mission being the creation and succession of intellect. As a research institution, we established the Strategic Research Division in 2014, consisting of three research areas of Life & Nano-Bio, Green & Environment, and Sensitivity Recognition Support. In addition, a new research area of X-ray & optical infrared astrophysics has just started in collaboration with Japan Aerospace Exploration Agency. The plan of enhancing the educational function has also advanced smoothly in each of three graduate schools including the programs for overseas students.
The second is the self-branding as SU by aggressively taking a role of regional centers to activate the metropolitan area around Saitama. In 2016, the Advanced Institute of Innovative Technology was established in SU for promoting a concrete utilization of the intellect by the industry-university-government collaboration to provide for the solution to the concerns of our time. Furthermore, the Career Center SU was organized to take the communication with the regional community positively to cultivate talented human resources depending on social needs.
Dr. Takaaki Kajita, who graduated from Department of Physics, SU, in 1981, has received the 2015 Nobel Prize in Physics. During his SU life, he was active both in studies and sports, especially in the Japanese art of archery, and encountered a variety of studies, professors and friends. His free and vigorous four years in the SU campus might have led him to the way to a researcher and to a tidemark of winning the Nobel Prize, and his steady research-style could be closely related to sound SU tradition. SU continues to provide high quality education, research, and social contribution proudly from now on.
April 1, 2017

Hiroki Yamaguchi, Dr. Eng.
President, Saitama University