With the martial arts requirement in place, what should we teach to children?
~Aiming to produce professionals who understand Japan's traditional culture and actively engage in the international community~
I studied at a university that trained specialists in physical education and sports and came to Saitama University in 1982. While dealing with some difficulties in adjusting to an organization that specialized in training future teachers, I started to work with a goal of training future teachers to whom I would confidently send my child.
Back then, I was also struggling to decide whether I should continue practicing competitive judo. Eventually I decided to do so, thinking that proactively making myself an example for students was the essence of teaching. I then won third place in the following year's world championship, won the 1984 Asian championship, won the national title five times in a row, and, in three years after I moved to Saitama University, won a bronze medal at the Los Angeles Olympics.
For 30 years since then, I have spent a lot of time with the students in my classes and the judo team members from other departments in research, class, morning and evening training sessions, and regular practice sessions. The time spent at these places of activity has been tremendously meaningful for my research. The new teaching guidelines from the government were fully implemented in April 2012, and taking a martial arts class became a requirement. Through martial arts, what ought we to teach to children who will complete their schooling in ten years and start actively to engage in the international community? The challenge for me is to teach, in an easy-to-understand manner, traditional ideas and attitudes that are rooted in Japanese people's lives, such as courtesy, ma and ki (pause and spirit), and courage to move forward in difficult situations.
Research process
1. Starting point
Competing with sports-oriented universities in their specialized field requires tremendous skill because the students at these universities have a lot of practice time. We also need to secure the necessary time to develop our skills. It is nothing but an excuse if students say having sufficient practice time is impossible because they study at a department that trains future teachers and requires many classes and practical exercises. We aim to achieve success both academically and in sports by effectively using limited time.
2. Turning weaknesses into strengths
Our facilities and budget are limited, and therefore
competing with students from private universities requires a change in
thinking. We are a group of 20 people. To compete with an organization of 200
people, we need an environment in which we can engage in our activities in a
spirited manner, enjoy overcoming hardships, think by ourselves, and proactively
take actions.
3. Internationalization of judo, and research on increasing competitiveness
We have friendly relationships with the national teams of the United States, Greece, the Netherlands, Australia, China, and Korea. To be recognized and accepted by foreign teams, we need to have a high level of competitiveness. Through these relationships we learn sports and culture in foreign countries by visiting their national training centers and regional general-purpose sports facilities.
4. The martial arts requirement and teaching safe practices in judo
My research currently centers on preparing instructional materials related to the martial arts requirement and teaching safe practices in judo class. With graduate students and students from my research seminar, I make plans for the preparation of materials, take photographs, and conduct editing work. I ask students to participate in photoshoots. Basic and fundamental learning materials require their creator to have high-level skills and an eye for correct movements.
5. Future issues
I will examine the essence and educational value of martial arts. I will also conduct practical research in collaboration with over 120 instructors who used to be members of my research seminar and the judo team. Based on books by Inazo Nitobe and Chinese classics including The Analects of Confucius and The Discourses of Mencius, which formed a basis for bushido (the way of the samurai), I would like to identify traditional cultural elements of martial arts that I should teach to the next generation of young people.
1. No distinction between national university and private university on the tatami mat
Some may say that they cannot win because they study at a department that trains future teachers and requires many classes and practical exercises.
This is an excuse.
Students thinking about excuses for their loss will not become strong.
If you overcome your weaknesses and turn them into your strengths, you can compete at the international level.
The morning training sessions are held four times a week from 7:30 to 8:30, and the regular practice sessions are held six times a week from 16:30 to 19:00. 
2. Development of original techniques
In the 1992 Barcelona Olympics, Noriko Mizoguchi, who was a third-year student at the Faculty of Education, won a silver medal.
The program produced a total of 22 student champions and seven medalists at world championships, Asian championships, and the Universiade.
Most of them are actively involved in teaching, and some have become national coaching staff members or head coaches for the National Athletic Meet.

3. Extracurricular activity and personal development
Trained in a rigorous practice environment, five students subsequently gained university teaching positions, four obtained a Ph.D., two became international judo judges, and some became certified public accountants.
Many graduates are currently working outside of the world of martial arts or judo. I am thankful that Saitama University is an organization with a great educational capacity and that experience-based knowledge helps them grow as people.
4. Research seminars and extracurricular activities as bridges connecting the university with its alumni
The goal of both research seminars and extracurricular activities is human development, but I see them as bridges connecting the university with its alumni.
After graduation, graduates may encounter some challenge or difficulty. When that happens, I want them to stop by the university where they worked hard for four years and absorb the energy of the current students.
When I retire, my research seminar will stop, but I hope that the extra curricular activity that I have supervised will continue for.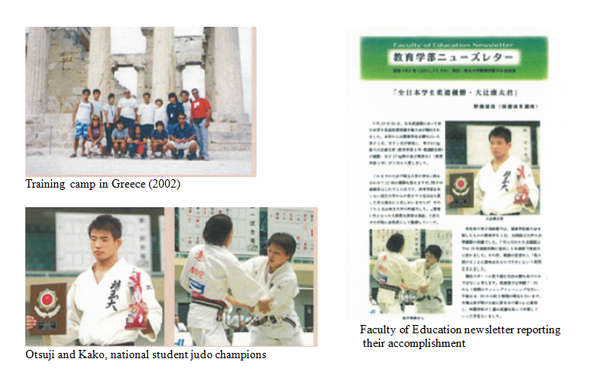 Profile
Seiki Nose
Health and Physical Education, Faculty
Professor
Biography
Education and professional experienceEducation
1976 Bachelor's degree, Tokyo University of Education
1978 Master's degree, Tsukuba University
1982 Lecturer, Faculty of Education, Saitama University
2002 to present Professor (after serving as Assistant Professor)
1996 Head Instructor, United Graduate School of Education, Tokyo Gakugei University
Publications
Women's Judo, Sobun Kikaku, 2006. (in Japanese; co-author)
Teaching Methods for Junior High School Physical Education and Sports: Martial Arts, Judo (Video Instruction Booklet), Nichibun, 2008. (in Japanese)
Perspectives of Judo Science, Bunkakobo, 2008. (in Japanese)
Step Up: Junior High School Physical Education, Taishukan Publishing, 2009. (in Japanese; co-author)
Visual Guide for New Physical Education Exercises, Tokyo Shoseki, 2011. (in Japanese; co-author)
Junior High School Health and Physical Education: Judo (Physical Education, Martial Arts 1), Tokyo Shoseki, 2012. (in Japanese)
Important Points in Teaching Safe Throwing Techniques, Tokyo Shoseki, 2012. (in Japanese)
Step Up: High School Physical Education, Taishukan Publishing, 2009. (in Japanese; co-author)
How to Safely Learn Judo, Tokyo Shoseki, 2013. (in Japanese)
Instruction Guidelines for Judo (3rd Ed.), Ministry of Education, Culture, Sports, Science and Technology, 2013. (in Japanese; co-author)
Links
Faculty of Education newsletter (http://www.edu.saitama-u.ac.jp/news/2012-1126-1223-10.html)