Art and Its Significance: Within People and Society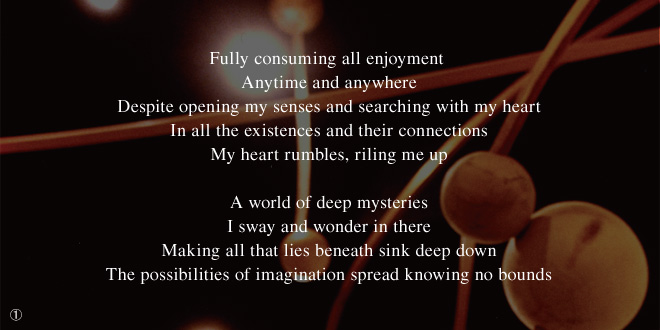 ---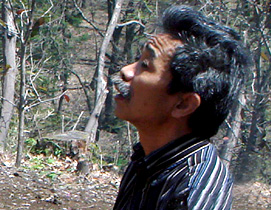 After running my pencil through and continuously hammering my chisel, I confront it while gazing through it, thinking of an hour of absolute bliss that awaits ahead. This is a moment that I cannot and do not want to share with anyone. It is a moment of pursuit that would shake up one's own self-control; it is my own moment of art.
Humans are born and eventually meet their demise. Within one's life, how much power does art exert? We all are humans; we are asked to behave as such and are pursued by this demand. If we tilt our face slightly, we can see the moon and feel the wind of darkness; but we are lost in meeting such demand, as if we have forgotten how to live. Our days are spent unable to experience, respond, feel, or think about the natural phenomena,  and yet, we are unable to reflect even upon such a state.
 After being born into this world, our own abilities are crystallized [Remark 1] within us by receiving and accumulating all the circumstances in which we become involved. Such abilities are fostered through the involvement with events and phenomena that each individual has in their own world; these abilities will manifest itself once those individuals become aware of them. These abilities will design the world and are the consciousness that will give existence to themselves.
The significance of artistic autonomy will gain intense meanings within each individual. The consciousness that materializes after pursuing and crystallizing will become independent as an autonomous existence. However, the consciousness that continues to accumulate within each person, as if to seep through, is found within the desire that knows no bounds. Currently, art presented within society must understand society through its materialized existence to explore how to resonate via the consciousness that has created the art itself. Cultivating a society is the mutual effect borne from the art's consciousness. Through this process, art can secure the will of autonomy.
Profile
Tetsusei Yokowo
Professor, Art Education Course, the Faculty of Education
Biography
1984: "Ruten" (Vicissitudes), Gallery Yo (Tokyo)
1986: "FROM SOUND", Striped House Museum (Tokyo)
1989: "Sākyurēshon INSTALLATION" (Circulation Installation), Gallery Kobayashi (Tokyo)
1991: "Sonouchini Mieshi Monotachi I, II, III INSTALLATION" (Being That Can be Seen Inside I, II, III Installation), Gallery Nabisu (Tokyo)
1995: "Kan no shiou '95 –Kaze-"(The Image of the Ring '95: Wind), Gallery 21 + Yo (Tokyo)
1996: "Kokoro wo Iyasu Shokubutsu" (Plants that Heal the Heart: Art Botanical Garden), Meguro Museum of Art (Tokyo)
1997: "Kiniyori Chōkokuten –Kanagi-" (Sculpture Exhibition of the Wood: Kanagi), Aomori Prefecture, Kanagi Town Park (Aomori)
2000: "Fuki no Katachi-ten" (Shapes of Affairs Exhibition), Gallery Marronnier, Wacoal Art Space
2002: "Tsuki to Toki to Ki to" (The Moon, the Time, and the Trees), Court Gallery Kunitachi (Tokyo)
2004: "Setsuna Sou" (Transient Emotions), Ryugasaki Kindergarten (Ibaraki)
2008: "Sousou no – I -" (Creation of Emotions: I), Installation, Hitachi Civic Center (Ibaraki)
2010: "Ki no Dezain" (Design of Trees), Wakita Museum, Tokyo University of the Arts Museum (Nagano and Tokyo)
2011: "Kaikou 2" (Chance Meeting 2), Gallery PaM-a (Tokyo)・2012: "Sousou no – V -"(Creation of Emotions: V), Installation (Seoul)
… and so forth, also participating in numerous other solo and group exhibitions