In light of the spread of the COVID-19 virus, we have decided to hold the Graduation Ceremony on a smaller scale with only representatives as follows. The ceremony will be distributed on the Web to graduates and their families .
Please note that it may change depending on the spread of infection. If there are any changes, we will let you know on this page.
1.Eligible to attend the graduation ceremony
Representatives of undergraduate and graduate students

* The details of the ceremony video distribution will be announced on this page.
2.The date and time
Date: Thursday, March 25, 2021 Time: 11:00 am
3.Venue
University Hall  (Daigaku-kaikan 3rd floor)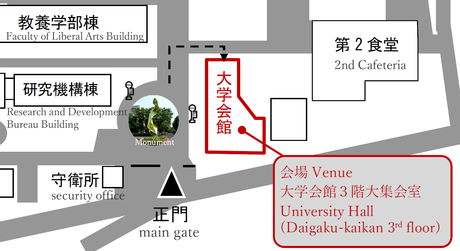 4.Information
●Your department or graduate school will announce separately on how to grant your diploma/degree.

●We plan to set up a standing signboard for commemorative photos on campus at a later date.
【Contact Us】
General Affairs Division, Saitama University
E-mail:soumu[@]gr.saitama-u.ac.jp