Life in Saitama was amazing. I made so many wonderful friends and had so many amazing experiences. My Residence Assistances were so helpful and kind, always wanting to hang out and show us around Japan. We went to shrines, Izakayas, and just all over Tokyo. I chose Saitama because of its close proximity to Tokyo and because out of the universities I was allowed to choose from, Saitama was the most diverse and foreigner friendly.
My professors were all so kind and helped me when I really needed it, and the staff at Saitama University were so friendly. While I spent a lot of time studying, I did make many friends (Japanese and foreigners) and together we went all over the country, even to Hiroshima! We even went to Tokyo Disney. I was even given the opportunity to teach an English class and became close with my students. Saitama University has so many events, including an awesome fall festival with live performances from some of the clubs on campus. It was a great time to relax and embrace the university.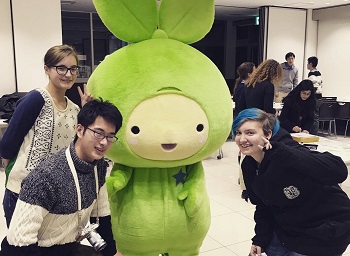 Living in I-House was amazing. I got to know my neighbors really well and we would spend a lot of time together. You get to learn about all sorts of cultures and even pick up on some of their native languages! Sometimes we would hold events like parties that were great for socializing and meeting new people! I think one of my favorite things about Saitama University is the fact that there are three cats that live on campus, a few by I-House as well. I really love cats and I even have one in the states. Overall, I had an amazing time and I really miss Saitama. I will never forget the experience I had and will treasure those memories forever. I hope to return in the future!