The student life in Japan which I experienced is very different from my home country. Starting from the transport we take to college till I used to go back to my home ( homestay ), every bit of it used to be exciting as it's a new thing for me everyday. As the place where I used to stay was far away from the college ( Yashio ), I used to take 2 trains and a bus to finally reach my college. Here in Pune, Maharashtra ( India ) I commute to my college by two wheelers ( which aren't in a great number in Japan ).
  As the campus was too big , we got a campus tour , but in the initial days I used to struggle to find the location/ building in which lecture used to take place, but it's a blessing in disguise as I used to meet SU students and talk to them and then , I indeed made a lot of friends like that and we're still in touch through social media.
  Apart from the lectures, the college made us experience a lot of stuff which we wouldn't have experienced even if we came as a tourist in Japan, and that was the best part of it. We've experienced the essential elements of Japanese culture, from Sadou, to Karate, the field trips to the old town in Japan ( Kawagoe ) and also arranging homestay for us ( which was one of the best experiences in life ), the student life which I experienced was absolutely a memorable one. The Japanese talking sessions after our lectures not only made our Japanese improve according to our level, but also we met different students from different countries every new session which made us look out of our culture and understand others from their cultural perspective as well as a person. The student life and the people were so amazing that I would like to work there in future someday and I'm looking forward to it.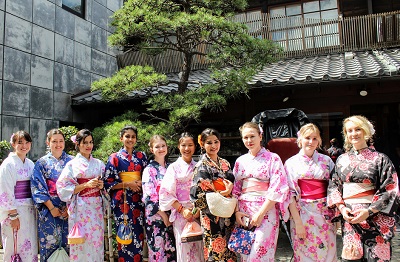 SU was my first choice as it not only let me study Japanese there but also various elective subjects such as economics, global agenda etc, which used to interest me a lot and I also got a scholarship which was much needed. At an early age of my life, I had the elusive opportunity to explore Japan as a beginner, which other colleges didn't provide, hence SU suited perfectly well.