I think that this was a great for many reasons. First of all, I had the chance to visit, for the third time in a row, this beautiful country. I really love this country, but I never imagine that I could fall in love more deeply thanks to the city I lived in. I spent one year in Saitama and I can say that is the perfect city to live in. It is nice, everything is really close to the campus and the atmosphere is fantastic. Also, Saitama is really close to Tokyo and too many beautiful landscapes.
In the I-House there were many cultures mixed together, but we never had conflicts. There was many activities in which we could stay together and talk about our experience. In the I-House, together with the international students there were some Japanese one. They were a group of students in which we could always count. I felt like the ladies in the I-House Office were part of my family, that's why it was so difficult to come back home.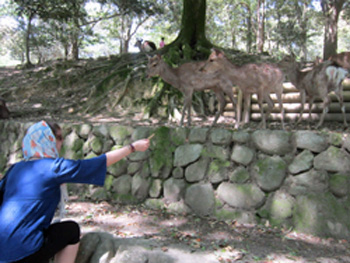 I thought it would be difficult for me to find a place for myself in a university like this, but thanks to the teachers, always ready to help you with good advices, and to the people in the International Office, everything has gone greatly. After a while, I didn't have the feeling to be abroad, but it was like we were a big, happy family, like I was in my hometown. Everyone is ready to help you, you just need to ask.
The university is not only beautiful, I really REALLY loved the campus, but it is also well structured. I feel like I powered up my Japanese, I feel more confident and I am not afraid to talk in front of other people, thanks to the many classes and activities I had the chance to do, even though there is still much to master, but also I feel like I've grown up. Living alone it's not easy, if you have never experienced it, but with the good advices and the right guide it's not a big deal.
Thank you, Saitama University!
-Vanessa Verdichzzi(University of Turin)