12 International students and 15 Japanese students living or studying in Saitama joined a "Saitama Study Tour" on November 6th. We invited the lecturers from Saitama Prefectural Office Recycling Promotion Division, Kurita-Aim-Delica Co, Ltd. and an Organic Farmer.
  Theme for the tour was "Environmental Issue Part2: Food Loss." The lectures were taken to learn about the current situation of food loss and efforts to reduce it in Saitama. And the participants planted seeds of Komatsuna and Turnips and learned about environmentally friendly agriculture. At the end of the tour, the group discussion took place. Each participant introduces the food loss situation in their country and sets an "Action" to reduce food loss in their daily life.
  Before the tour, the orientation was held, and Japanese students organized some games for ice break with international students.
This tour was sponsored by the Nakajima Foundation and Saitama Center for Go Global Students (GGS).
Comment from International Student
  While passing through a monotonous life due to COVID-19 pandemic, the SU authority made a breakthrough of it by arranging study tour. Like every year the Saitama University authority arranged a bus tour in SU campus in collaboration with Saitama Prefectural office, a renowned food company of Japan and an organic farmer.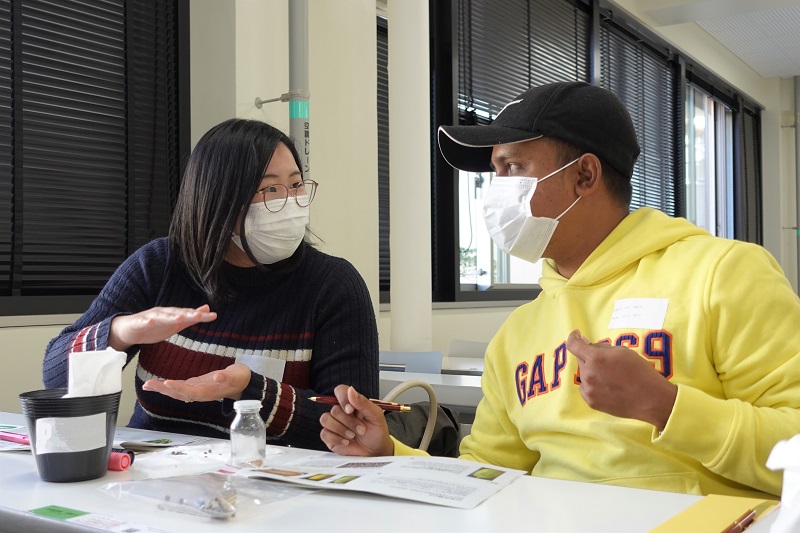 This trip was of so much value, it opened my eyes to the field of food loss. We learnt a great deal about the food loss and its global aspects. Also, we gained so much experience on team/group-work and hand to hand work on organic farming. I believe most if not all students are now able to practically think and work in this field. The other fundamental lesson we learnt was to be more inquisitive to the food.
  We are very grateful to the university authority for their efforts to make the tour successful. Special thanks to Oshima san. I also want to thank our beloved Nakamoto sensei for his special time that he spent for us.
Sakil MD Arif (Graduate School of Science and Engineering)