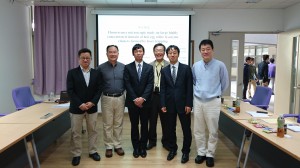 On December 8th, a master defense of Mr. Shimpei Nishimura was held in National Chiao Tung University (NCTU) in Taiwan based on a Double Degree Program between the Graduate School of Science and Engineering, Saitama University (SU) and the Department of Applied Chemistry, NCTU. The committee members of the defense consist of 5 professors who were Prof. Kien-Wen Sun, Prof. Ian Liau, Prof. Hiroshi Masuhara and Prof. Teruki Sugiyama from NCTU and Prof. Hiroshi Yoshikawa from SU. First, he presented his master research for 30 minutes, and the subsequent Q&A was actively continued for another 30 minutes. The title of his research was: "Fluorescence microscopic study on large highly concentrated domain of hen egg white lysozyme clusters formed by laser trapping."
All processes of the defense were carried out in English. After the master defense, candidates were required to leave the room, and the committee members examined his master defense. Then, Mr. Nishimura received a message "Congratulations!" from Prof. Kien-Wen Sun who was a chair of the defense committee, and completed his master defense. He is also going to present his master research at SU in the middle of February to complete the NCTU-SU Double Degree Program.  
Mr. Nishimura completed the regular procedure for defending his master thesis at SU as well in order to officially finalize the Double Degree Program in March 2015. Congratulations!