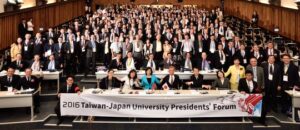 On May 12th, 2016, the First Taiwan-Japan University Presidents' Forum was held at National Cheng Kung University (Tainan City). Co-organized by Foundation for International Cooperation in Higher Education of Taiwan (FICHET) and Japan Committee of Universities for International Exchange (JACUIE), the participants outnumbered 250 people, consisting of Presidents and Vice-presidents from 140 universities of both countries. President Yamaguchi represented Saitama University.
The theme of the forum was "Challenges of Universities in Taiwan and Japan in the Era of Globalization." After the keynote speech from both countries, active discussions have been implemented on three themes: ① strategies of universities accountable to globalization, ② viewpoints on education (international internship, exchange students, etc.) and ③ viewpoints on research (international joint research, industry-university partnership, etc.), and mutual understandings on the present states of both higher education systems and possibilities on prospective academic/educational exchanges have been developed.
Saitama University has concluded 7 partnerships with Taiwanese universities. We have seen concrete interactions with National Tainan University that performs active student exchange, Kainan University, National Chengchi University, National Chiao Tung University that conducts a Double Degree Program, National Cheng Kung University that will jointly implements bio/green science research, and we are hopeful further collaborations in the future.
The second forum will be held at Hiroshima University in 2018.